Tu je še drugi del naloge za AECP 1 Final Challange Level 1 – Moški set voščilnic v darilni embalaži. Prvi del naloge – ženski set voščilnic in vse opise najdete tukaj. Tudi tokrat sem izbrala All Abaut Layering, Let it Shine in Celebration Stencil Techniques tečaje in podobno barvno kombinacijo, ja, moje moške voščilnice se svetijo in imajo pikico roza barve.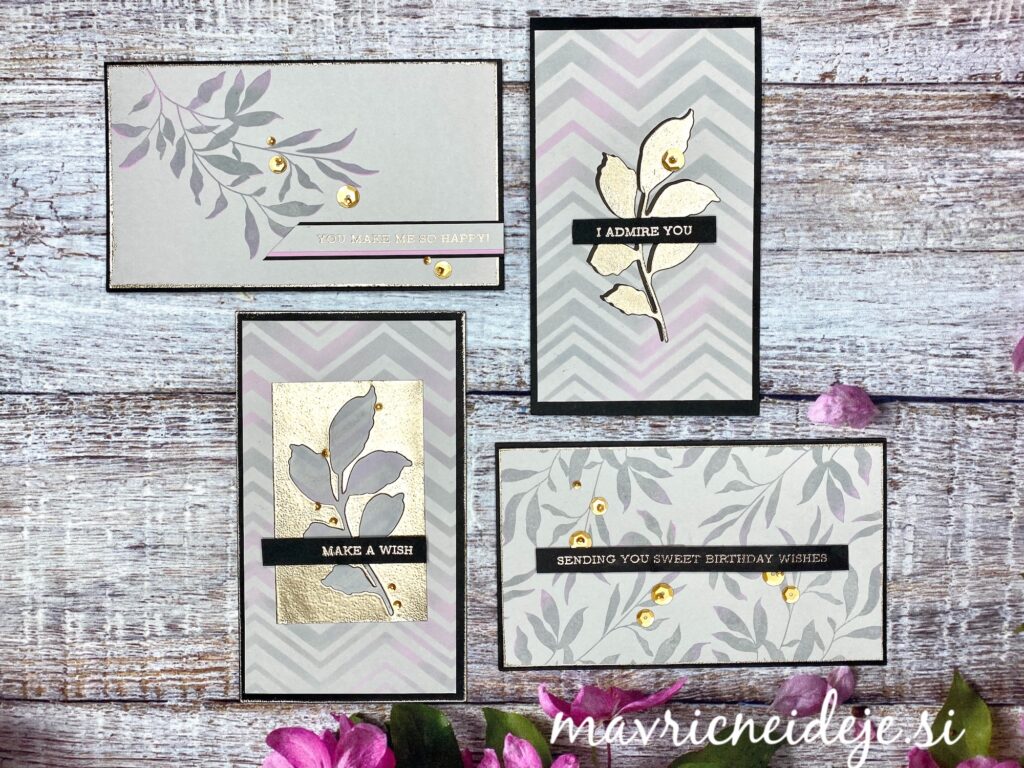 Voščilnice sem vstavila v mini vrečko, ki sem jo izdelala iz velike črne vrečke, kar je tokrat recikliran element.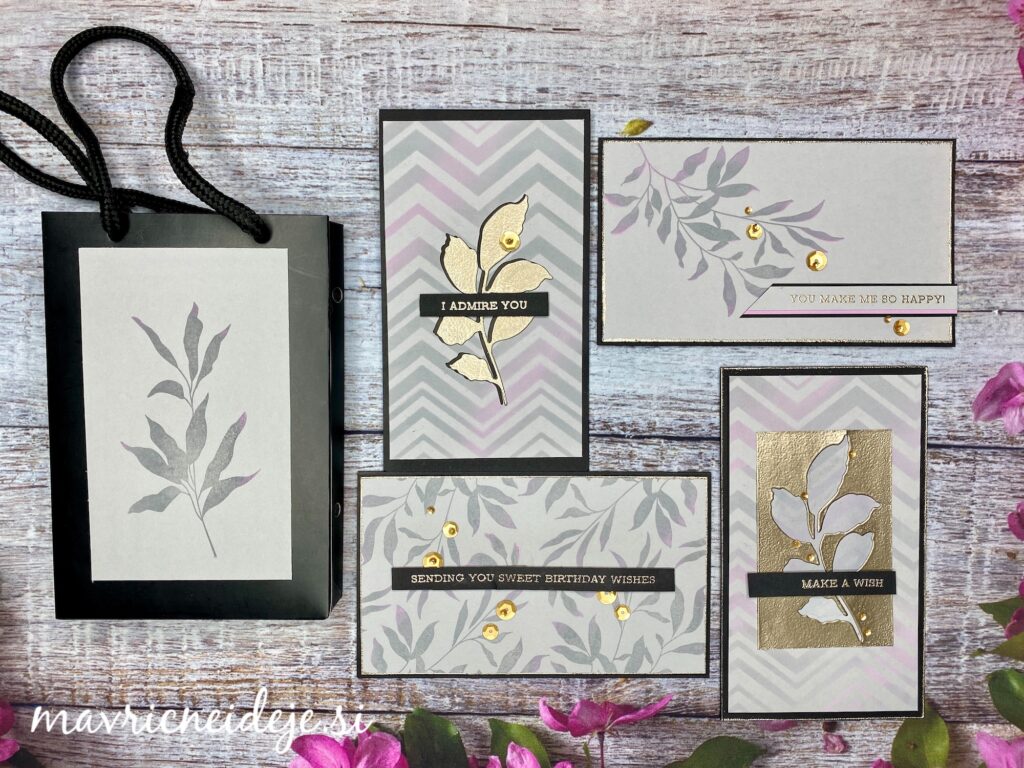 Voščilnice so velikosti Mini Slimline in merijo 6 x 3,5 inch. Na to velikost sem si pripravila črne osnove , dve ležeči in dve pokončni in začela z načrtovanjem.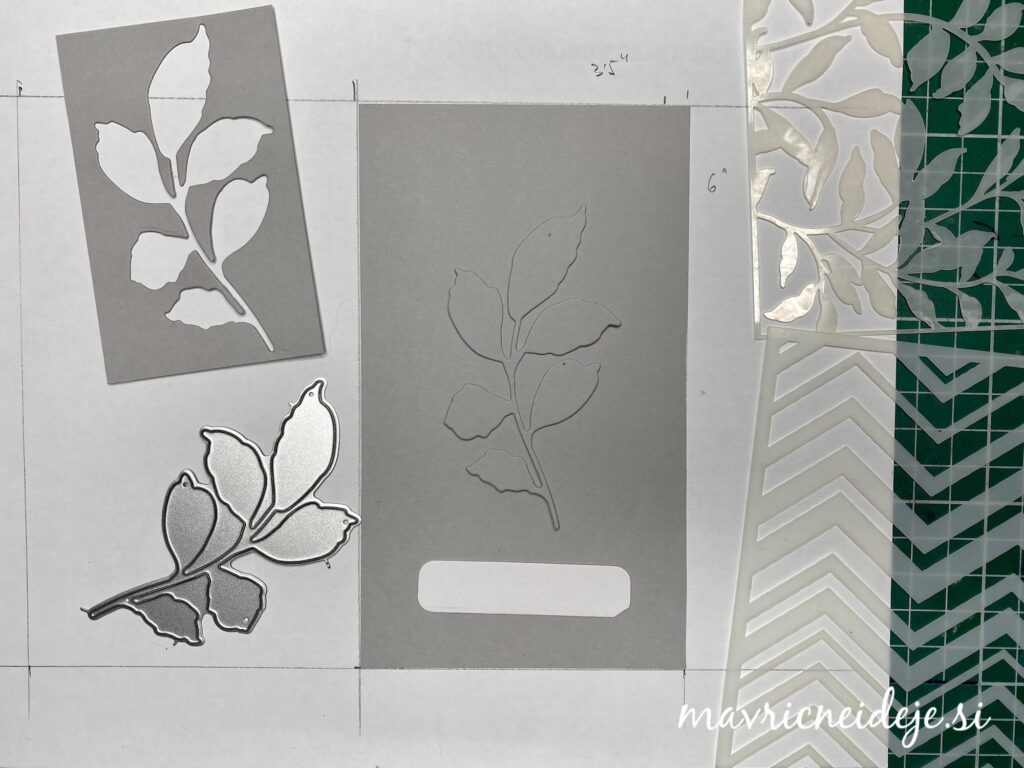 Misti naprava je nijen pripomoček pri odtisih v več plasteh, tu sem testirala pozicijo papirja in štampiljke.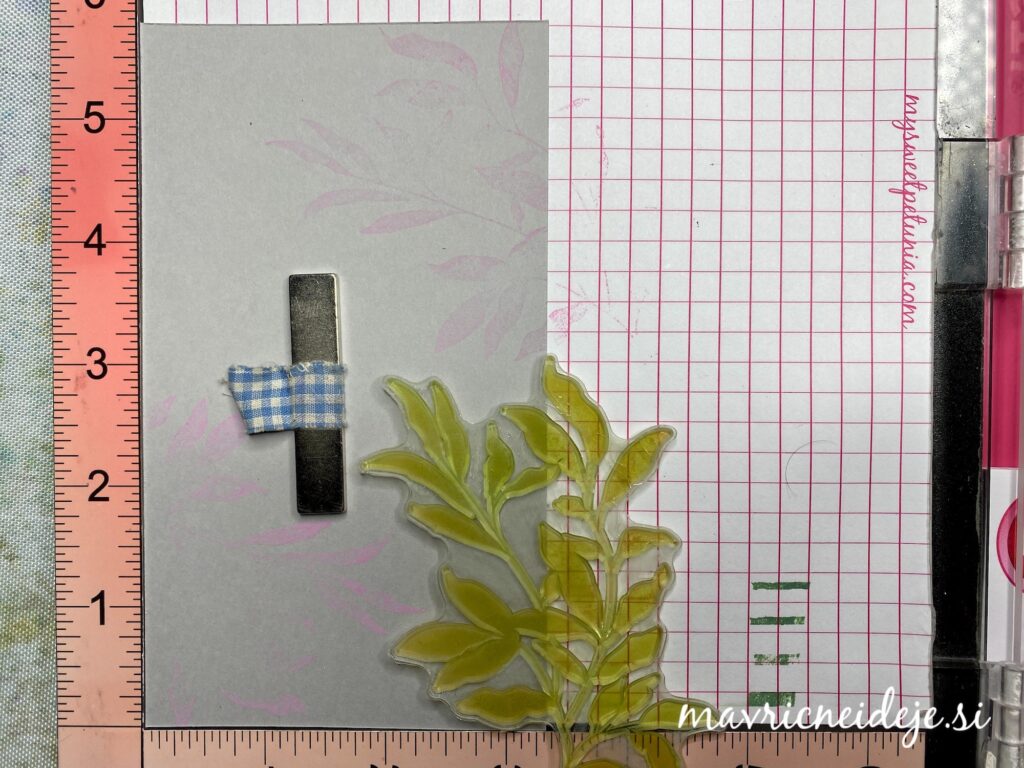 Najprej sem listke odtisnila s sivo (Distress Oxide Hickory smoke ) blazinico in nato le na špičke listov nanesla roza (Distress Oxide Kitsch Flamingo) ter ponovila odtis.
TIP: za lepe prehode z aplikatorjem malce zabrišemo pigment na štampiljki.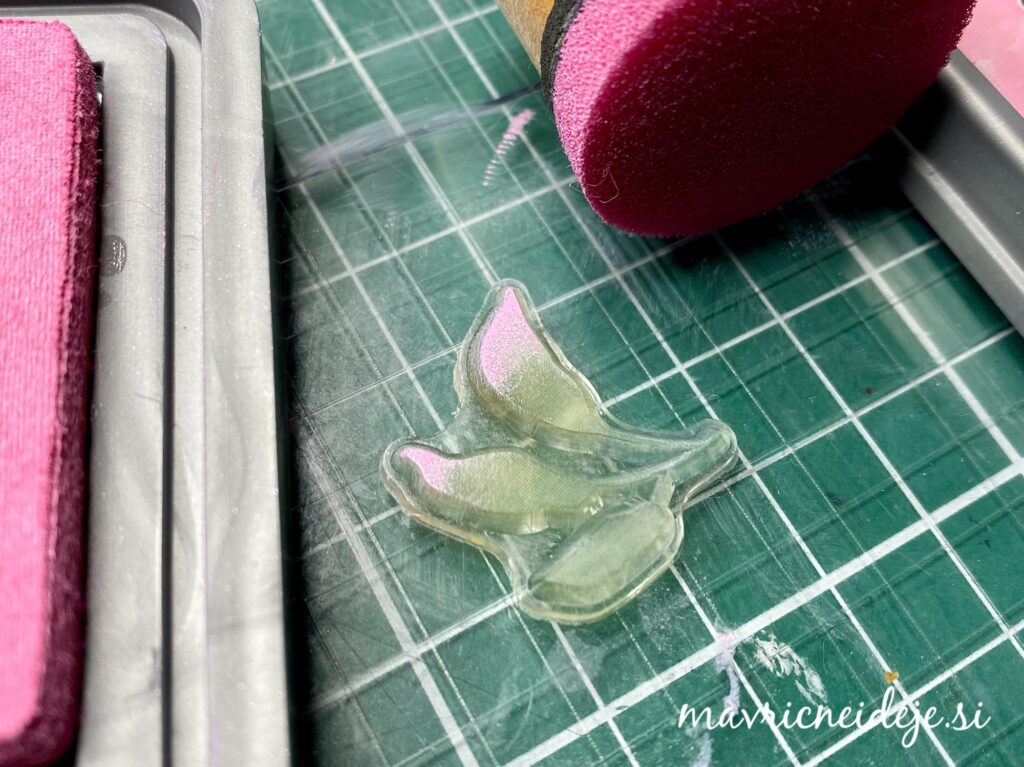 Pogled od blizu na dvobarvne odtise.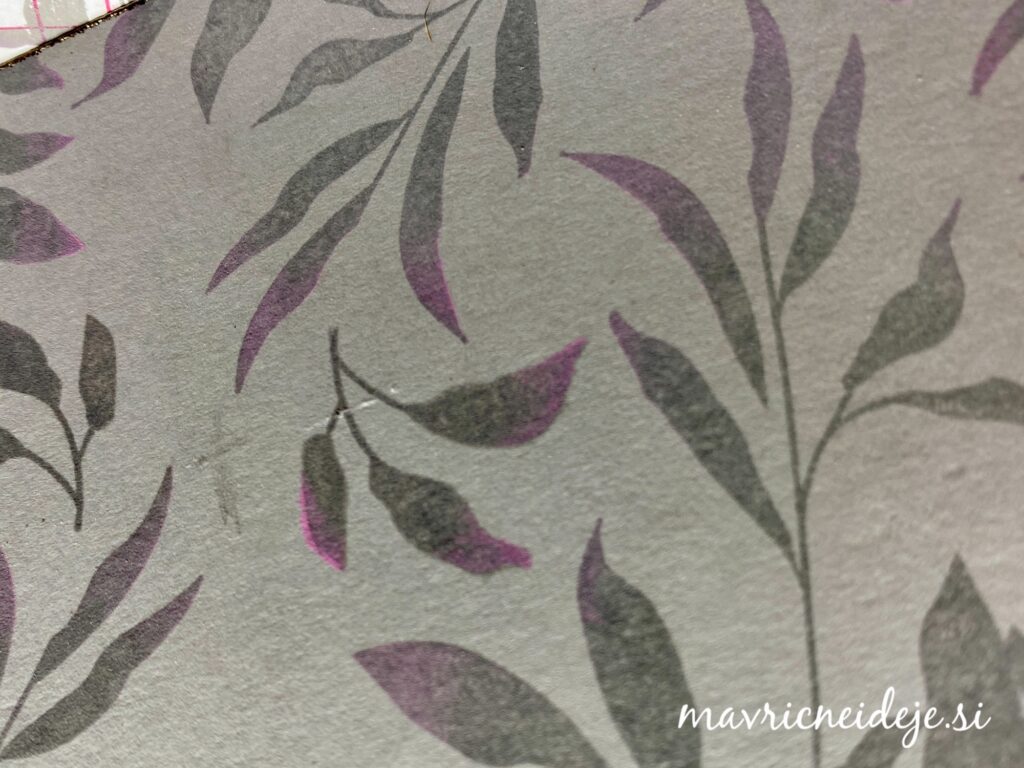 Rob Voščilnice in napis sem vroče embosirala z Ranger Liquid platinum prahom, ki se lepo ujame z bleščicami (Altenew Sequins-Make a Statement).
TIP: bleščice natresemo na prepognjen papir s katerega jih z lahkoto stresemo nazaj v lonček.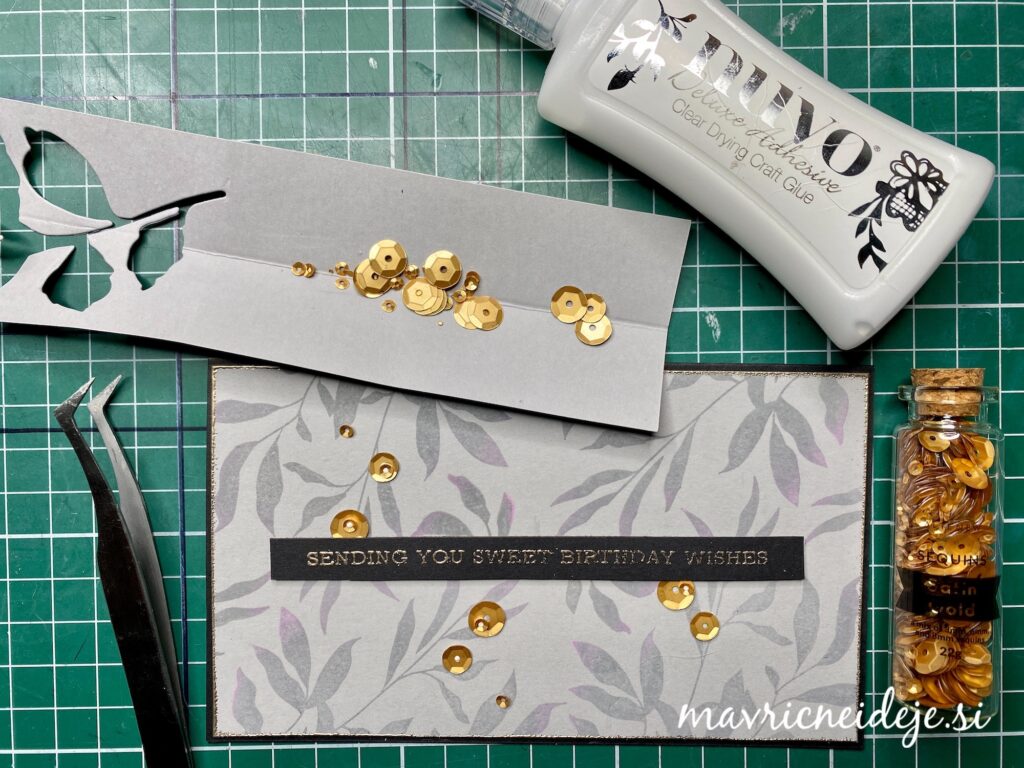 TIP: drobne napakice pri vročem embosiranju lahko s skalpelom nežno odpraskamo s papirja.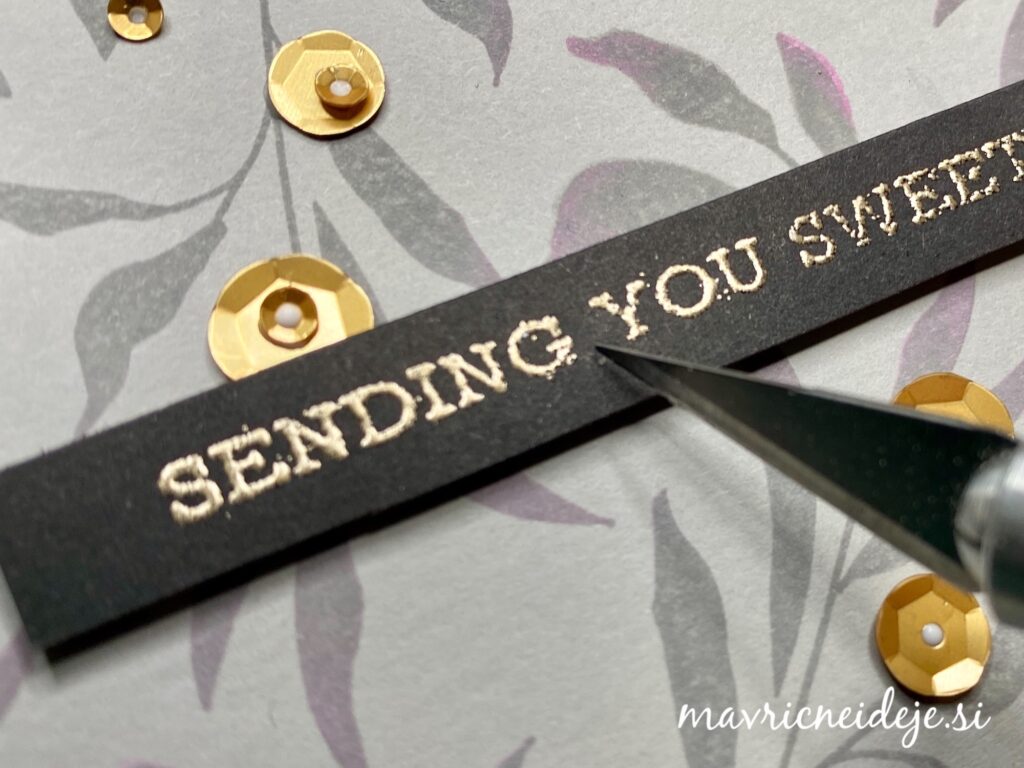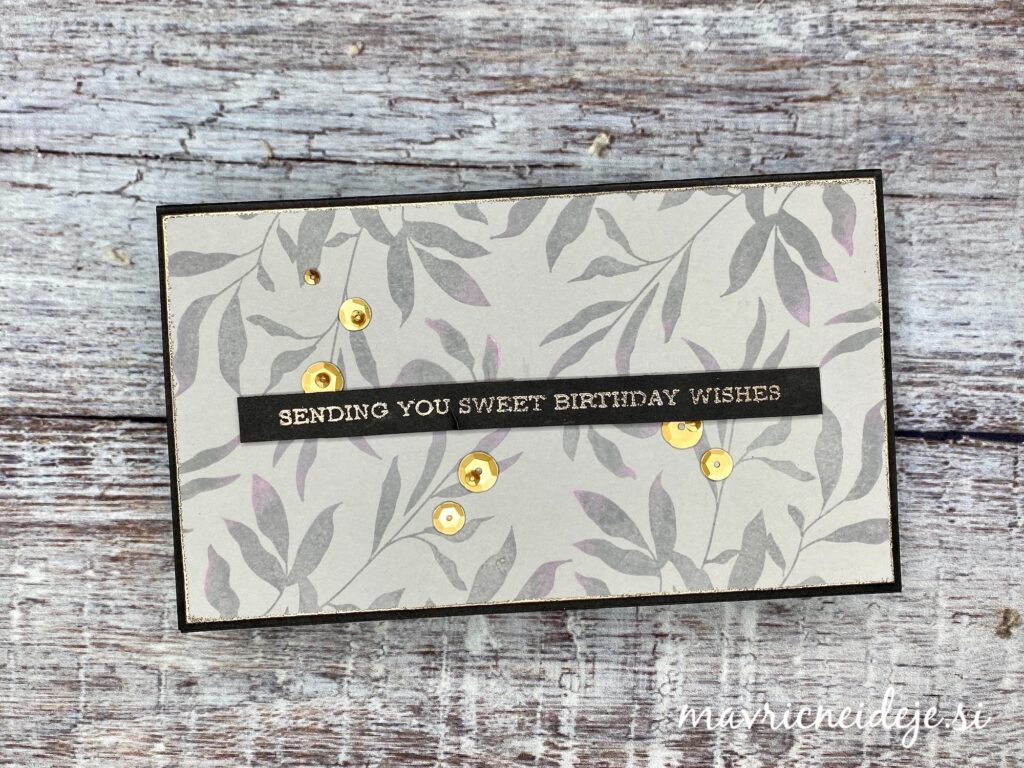 Za drugo voščilnico sem listno vejico odtisnila le enkrat in izdelala bogatejši element z napisom.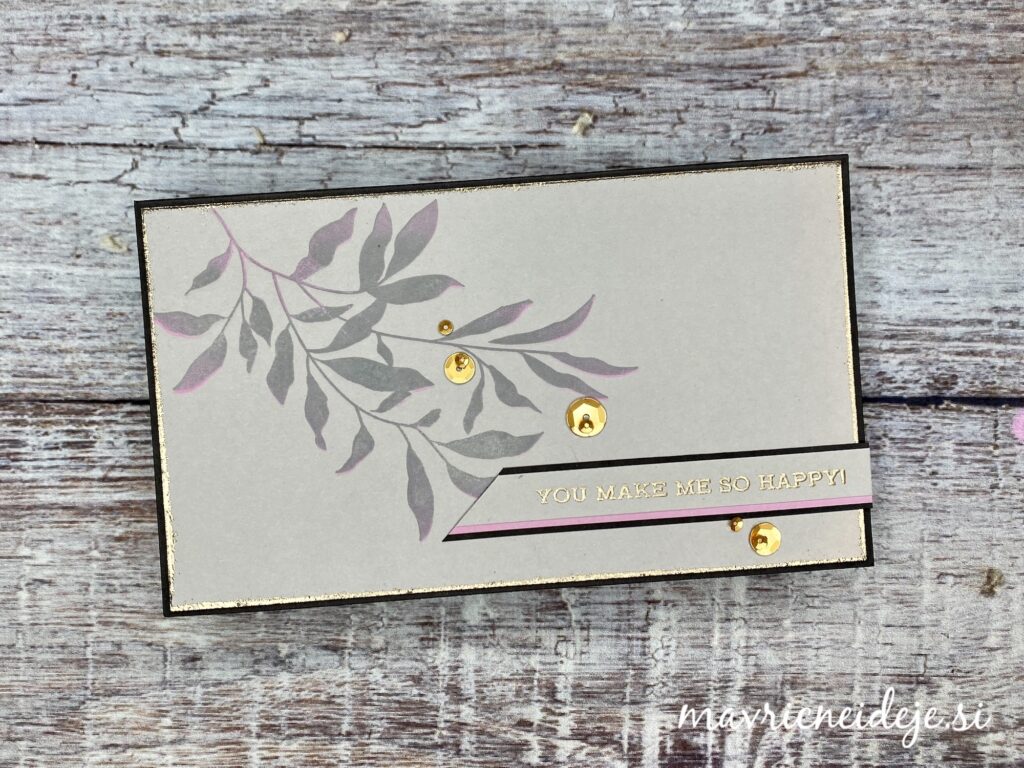 Za tretjo in četrto voščilnico sem uporabila pozitiv in negativ izreza listne vejice. Vsakega posebaj sem embosirala z Ranger Liquid platinum prahom.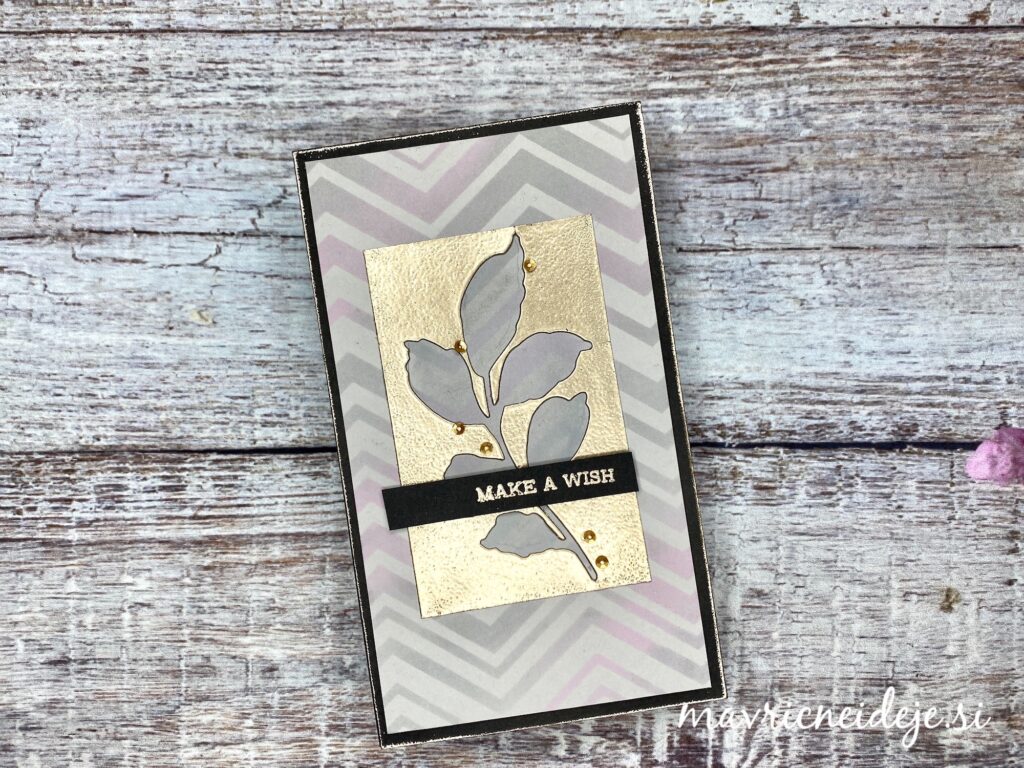 Za ozadje sem uporabila Altenew Chevrons stencil šablono in prej omenjeni barvni blazinici.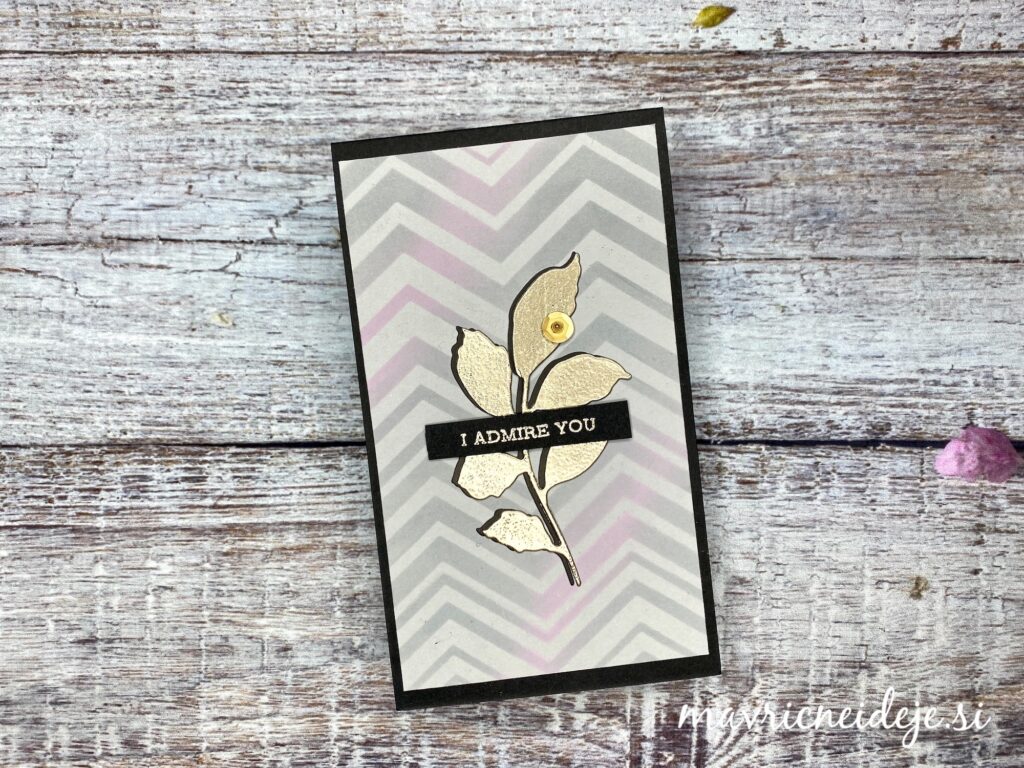 Veliko črno vrečko sem brez posebnega načrta predelala v manjšo.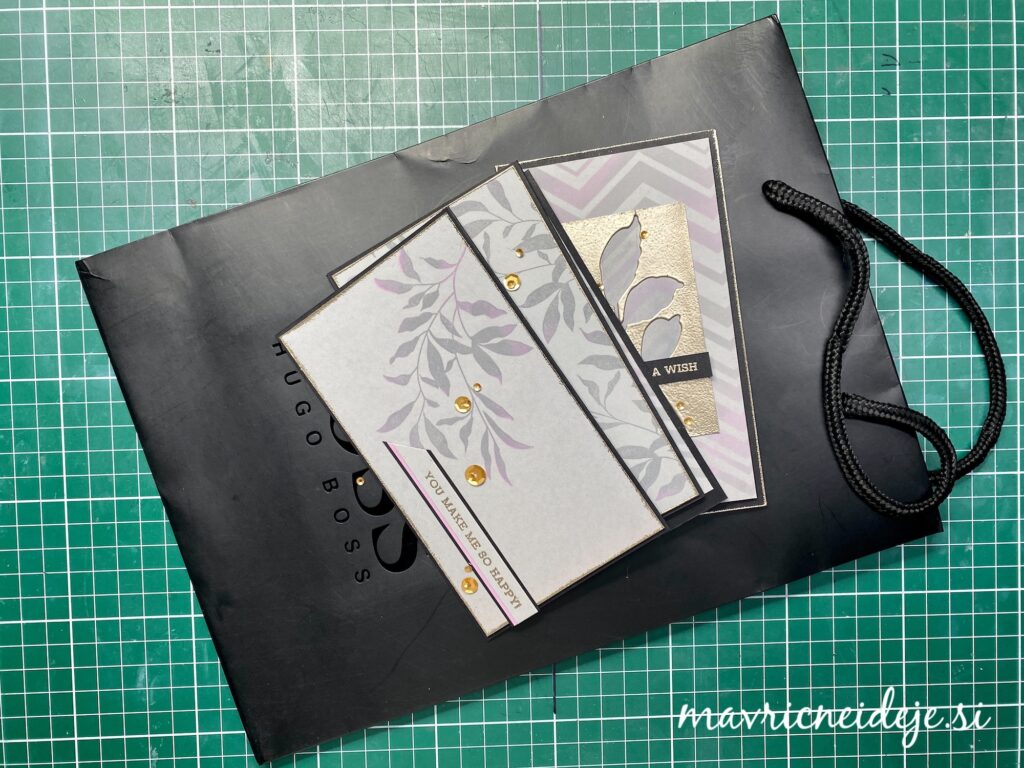 Na plošči za utore sem naredila prepogibe…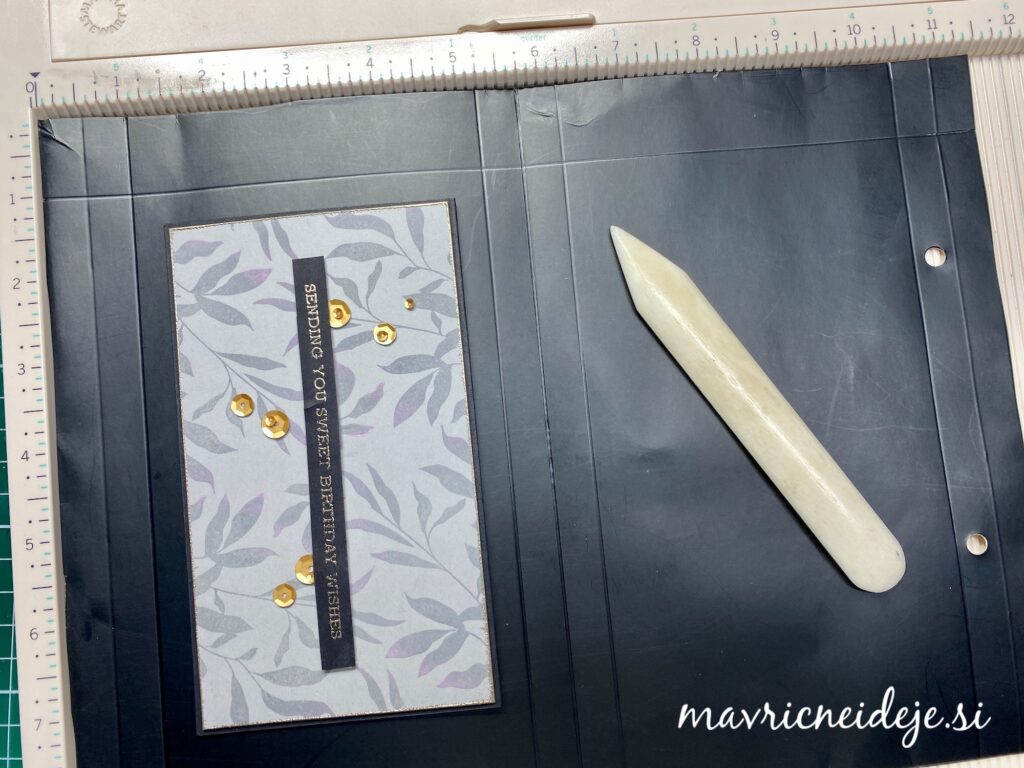 ..in vrečko zlepila z ATG lepilom.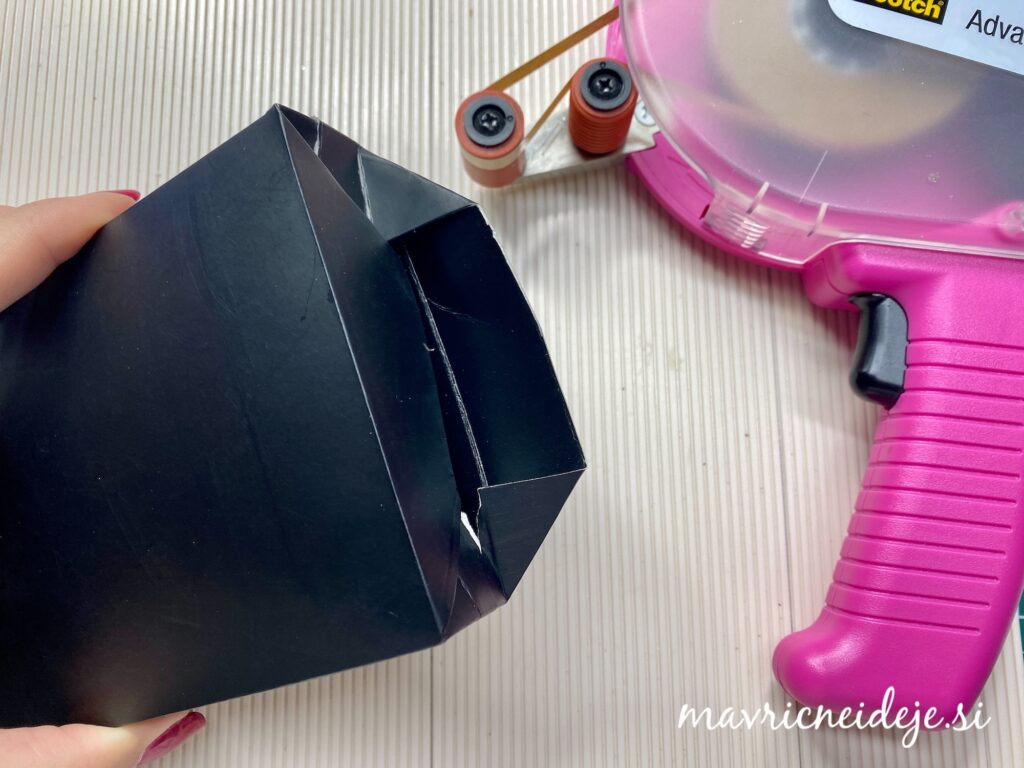 Luknjice za vrvico sem izdelala z orodjem, ki ne vem kakose mu reče.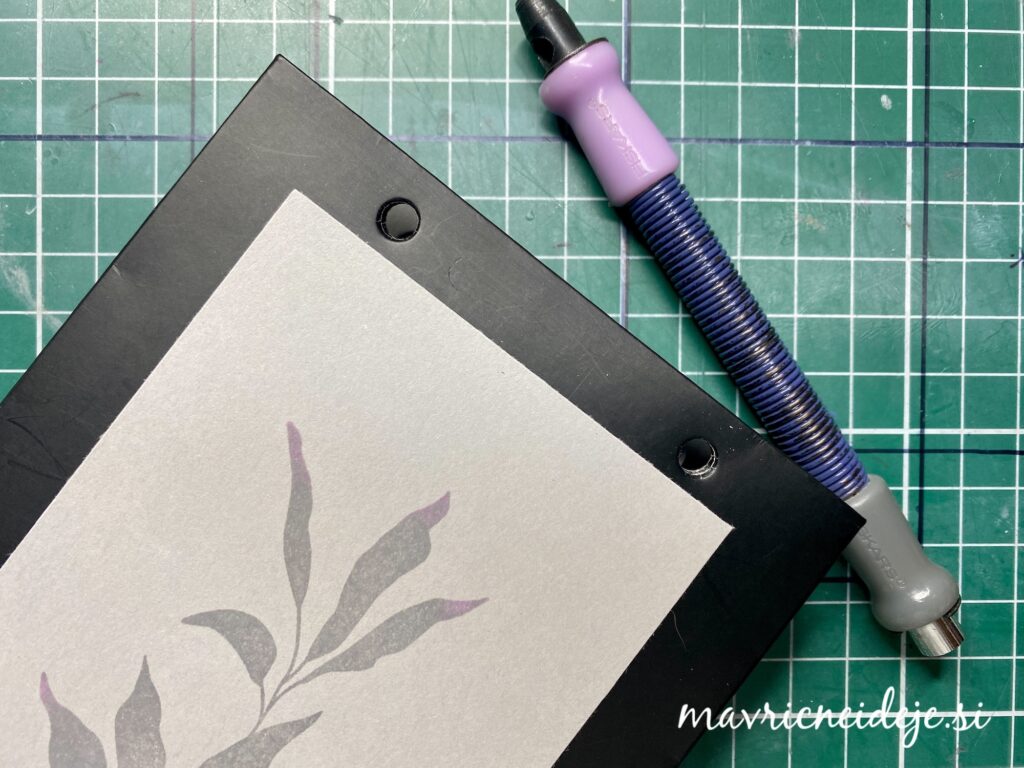 Napis na vrečki sem prekrila z enakim elementom, kot je na voščilnicah, te pa sem vstavila še v celofan vrečko.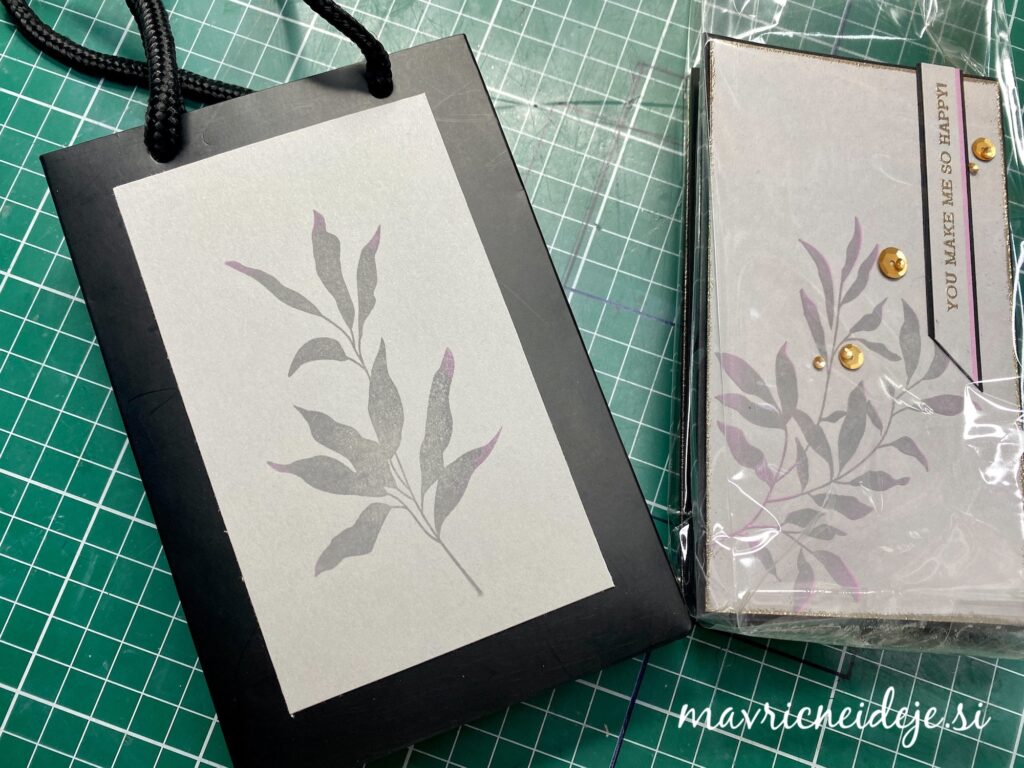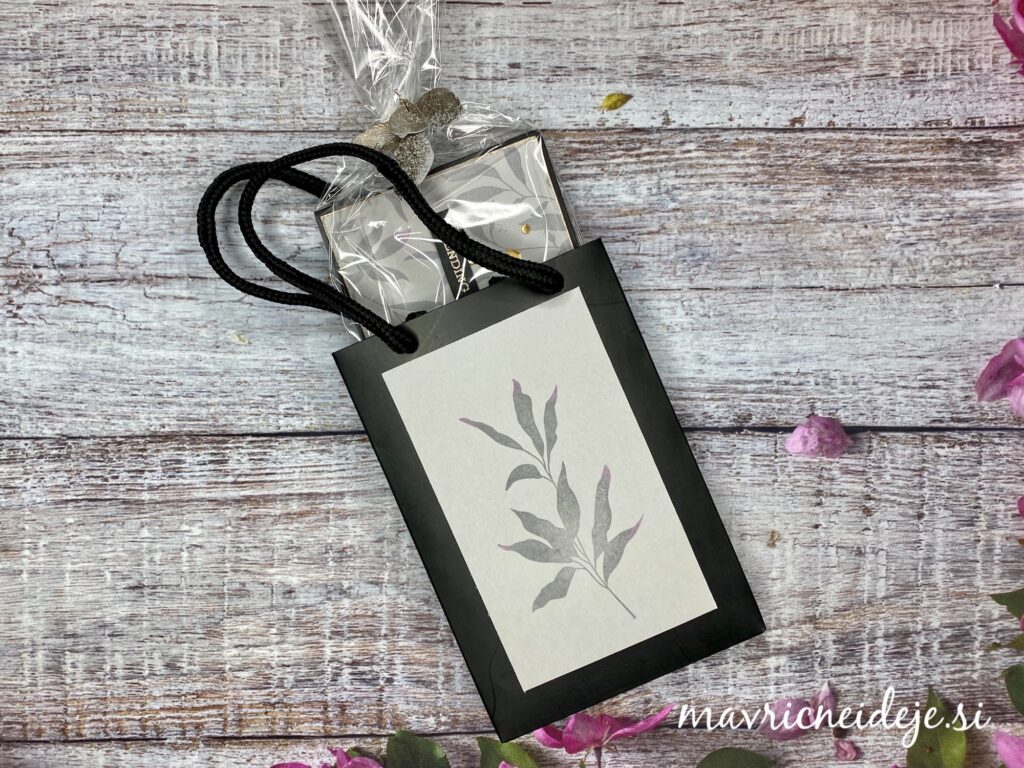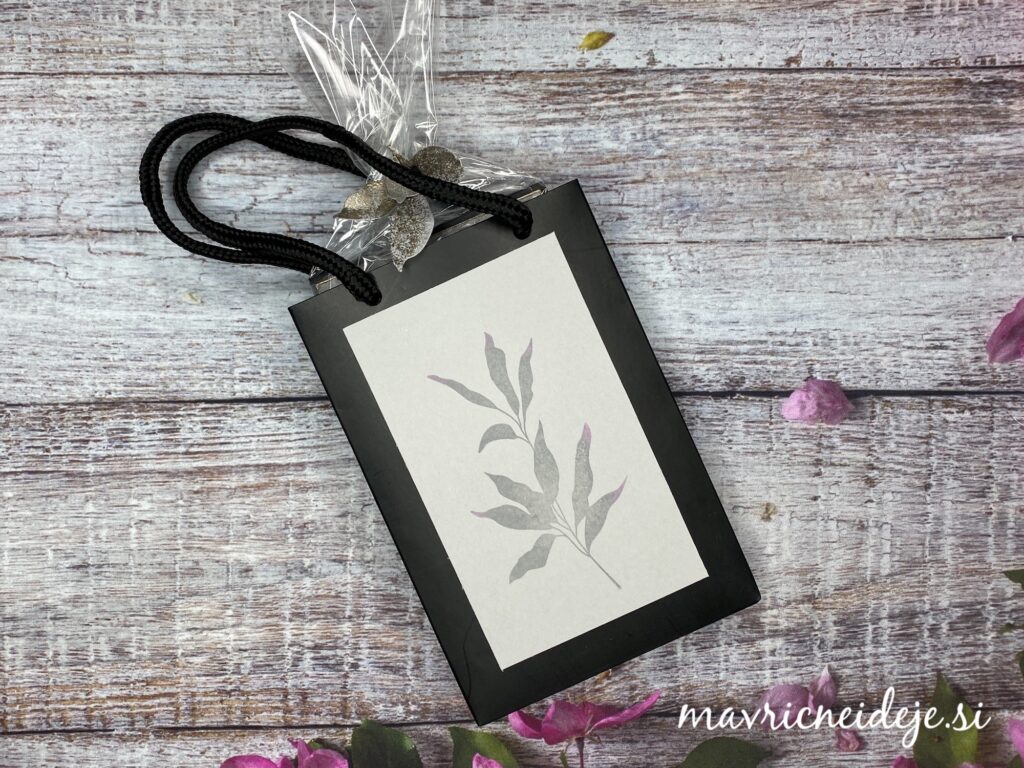 "For the second part of the AECP program assignment, I made a set of four men's cards and a gift bag. I used Altenew Leaf Clauster stamps, Just Leavs dies, Leaf bed and Chevrons stens and Sentiment stripes stamps. The glittering element are beautiful Sequins-Make a Statement and embosing powder, recycling is a paper bag. As with the women's set, I chose All Abaut Layering, Let it Shine and Celebration Stencil Techniques classes."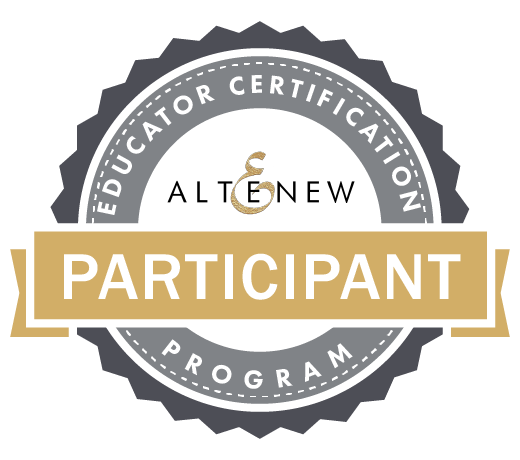 Altenew Leaf Clauster, Altenew Just Leaves rezalna šablona, Altenew Leaf Bed in Chevrons plastična šablona, Altenew Sequins-Make a Statement, Altenew sentiment stripe štampiljke, UK Craft papir owl grey in črn, Nuvo deluxe lepilo, ATG glue gun, Tim Holtz škarje, Plošča za utore, Misti, Nuvo grelna naprava, RECIKLAŽA: karton za podlaganje in papirnata vrečka.
Ves material nadete v

Hvala za ogled in komentarje.