V AECP poglavju "Cards in motion" sem se naučila veliko novih trikov, kako izdelati interaktivne voščilnice. Ashley Tucker tako prijetno razlaga in kaže, da jo je res užitek poslušati in gledati.
Za domačo nalogo sem izdelala cvetlični venček, ki se premika.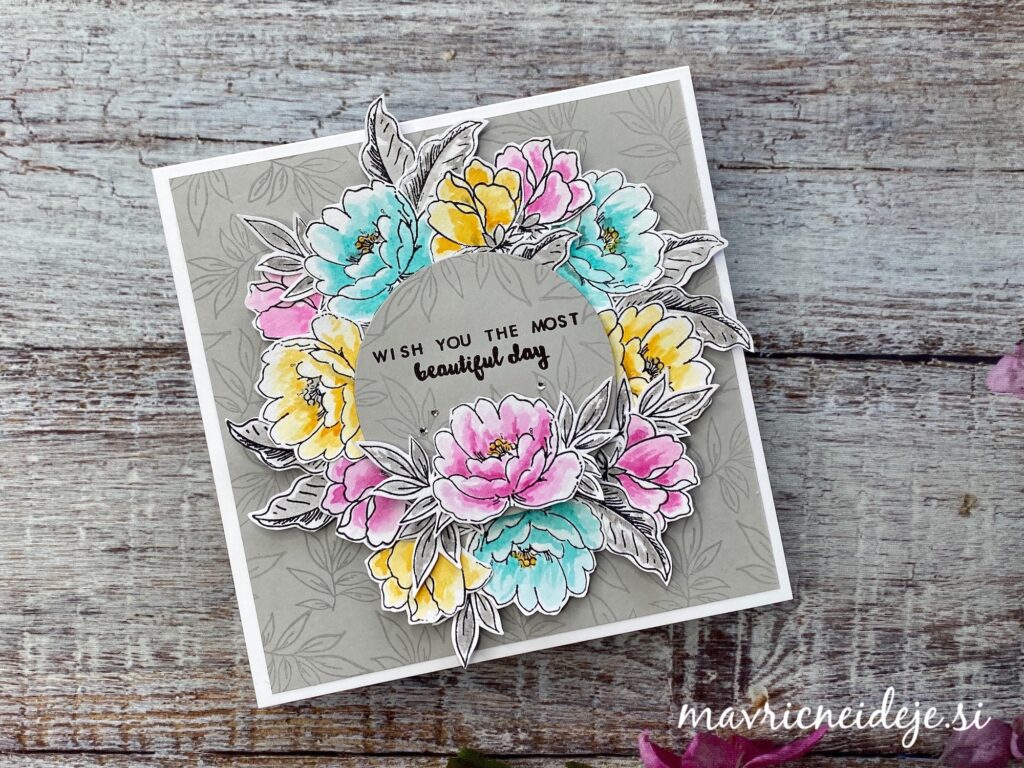 Na Florence akvarelni papir sem si z Ranger Archival črno blazinico odtisnila različne listke in cvetke, ki sem jih nabrala iz večih Altenew setov in jih pobarvala z Distress Ink blazinicami.
Za vrteči element sem iz UK Craft – owl grey papirja izrezala osrednji krog in nanj odtisnila voščilo. Pripravila sem si še "obroč, ki ima notranji izrez malce manjši od kroga z voščilom in enako velik izrez iz kapa plošče. Slednjega bi lahko izrezala in treh plasti belega papirja, ki bi jih zlepila skupaj.
Na siv papir, ki sem ga odrezala na velikost ozadja voščilnice sem z embosing – watermark blazinico odtisnila motiv vejic in nastal je zelo nežn vzorec.
Na tak način lahko idelamo vzorec na različnih barvnih papirjih.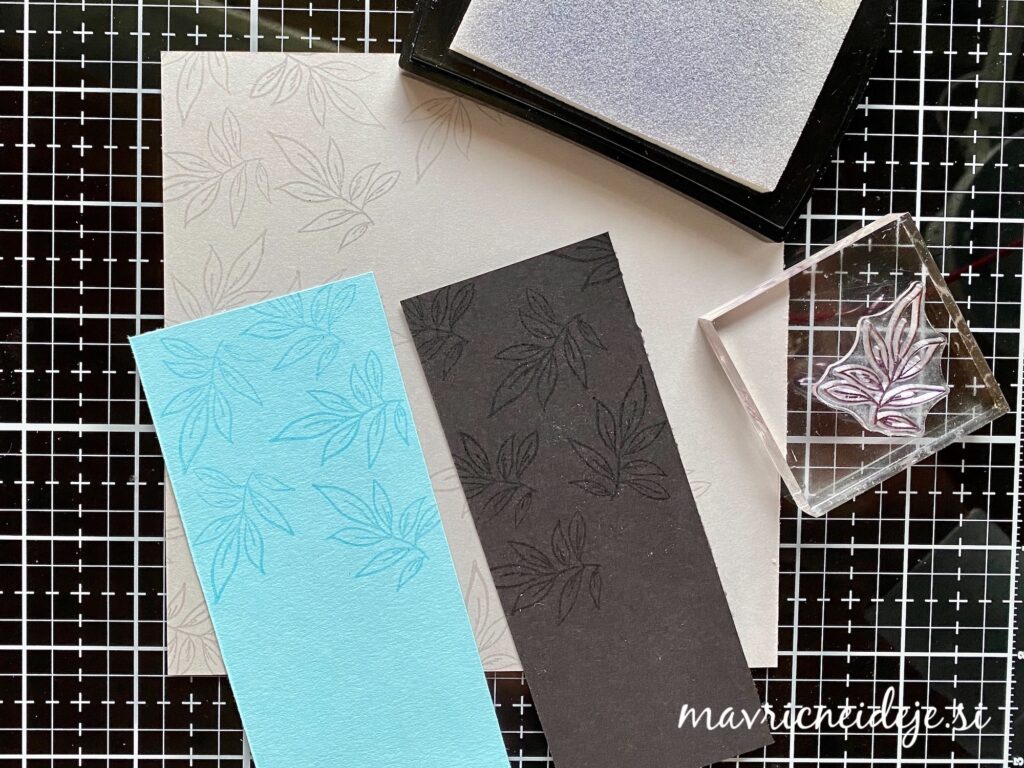 Na osrednji krog sem s 3d lepilnim trakom pričvrstila roza cvet z vejicama.
Nato sem na obroč razporedila ostale cvetke in listke ter jih prilepila z Nuvo tekočim lepilom.
Vejice, ki so kukale preko notranjega roba sem odrezala z škarjami.
Na ozadje sem s tekočim lepilom prilepila obroč iz kapa plošče . V odprtino pa dve plasti 3d lepilnega trakau.
Lepilni trak si na eni strani narežem, saj ga tako lažje oblikujem. Lepilni trak mora biti malenkost višji od obroča iz kapa plošče.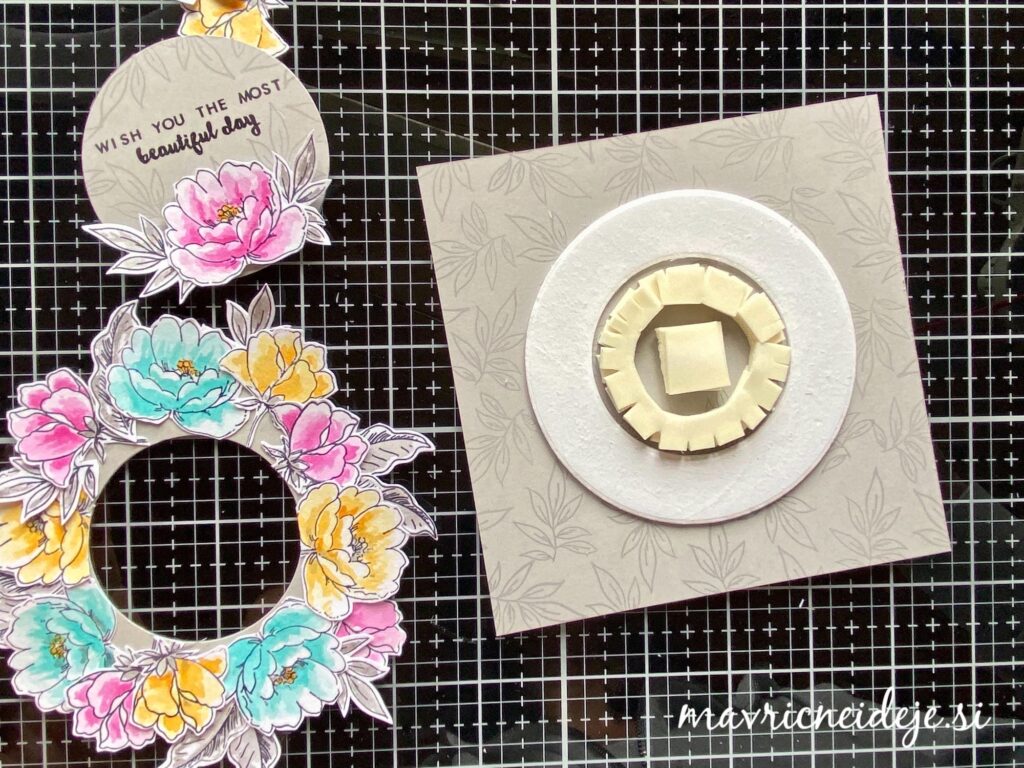 Venček sem nato samo položila na kapa ploščo – brez lepljenja, saj se ta del premika.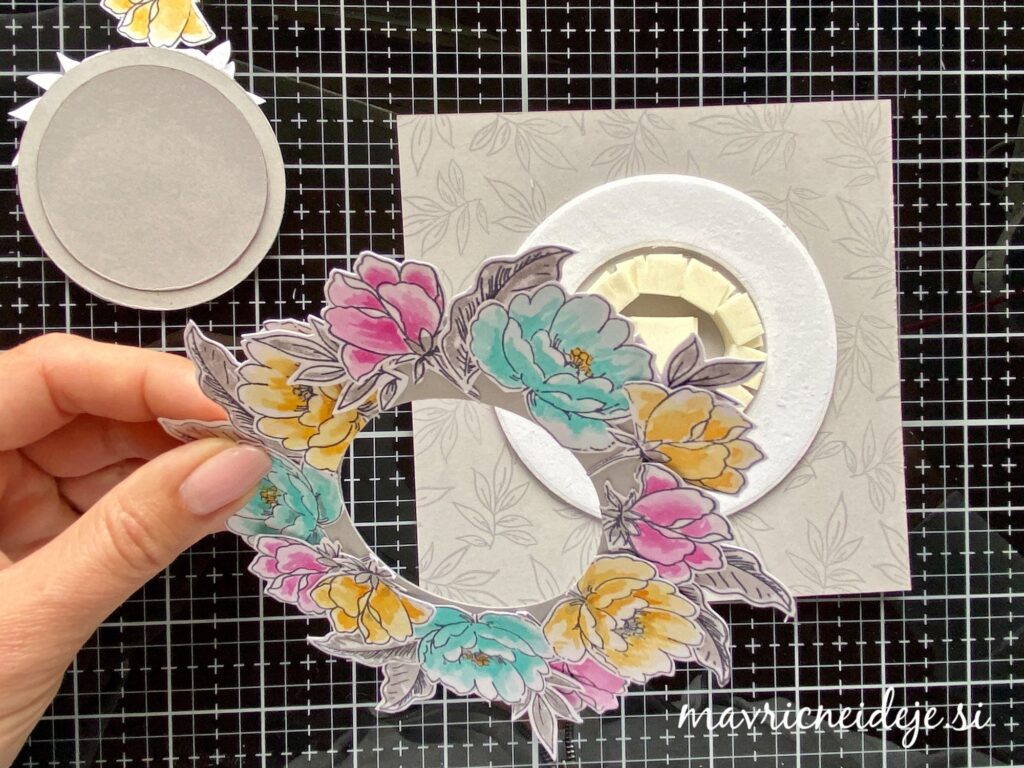 Na 3d lepilni trak pa sem namestila osrednji krog z voščilom.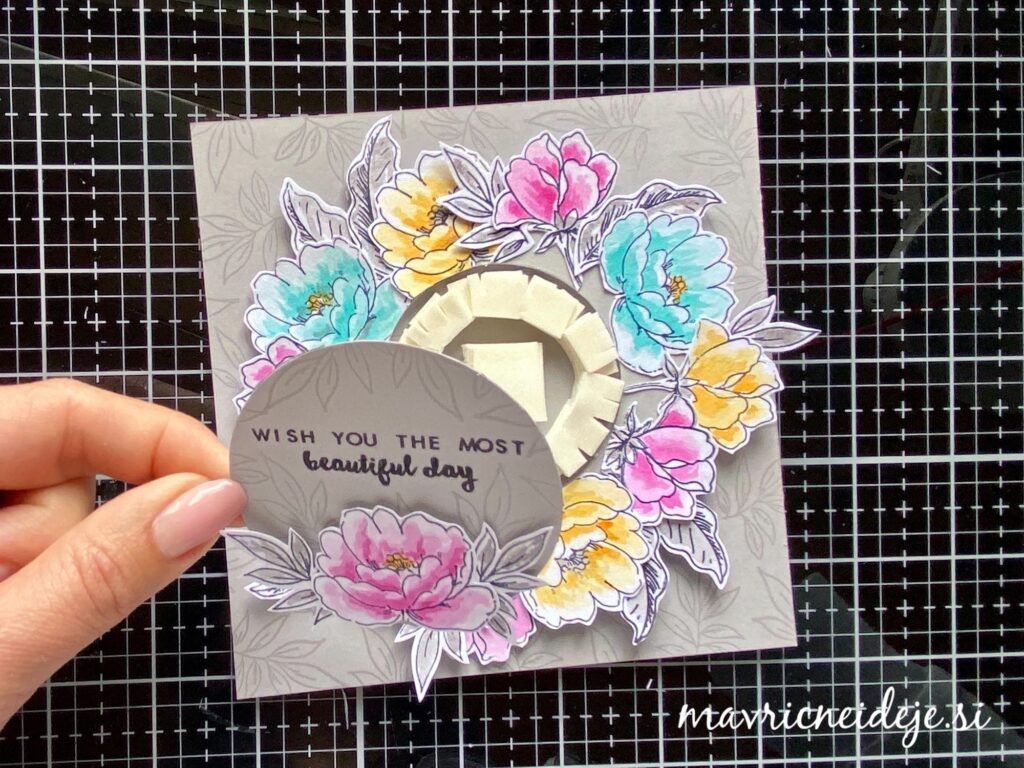 Vse skupaj sem namestila na belo osnovo za voščilnico.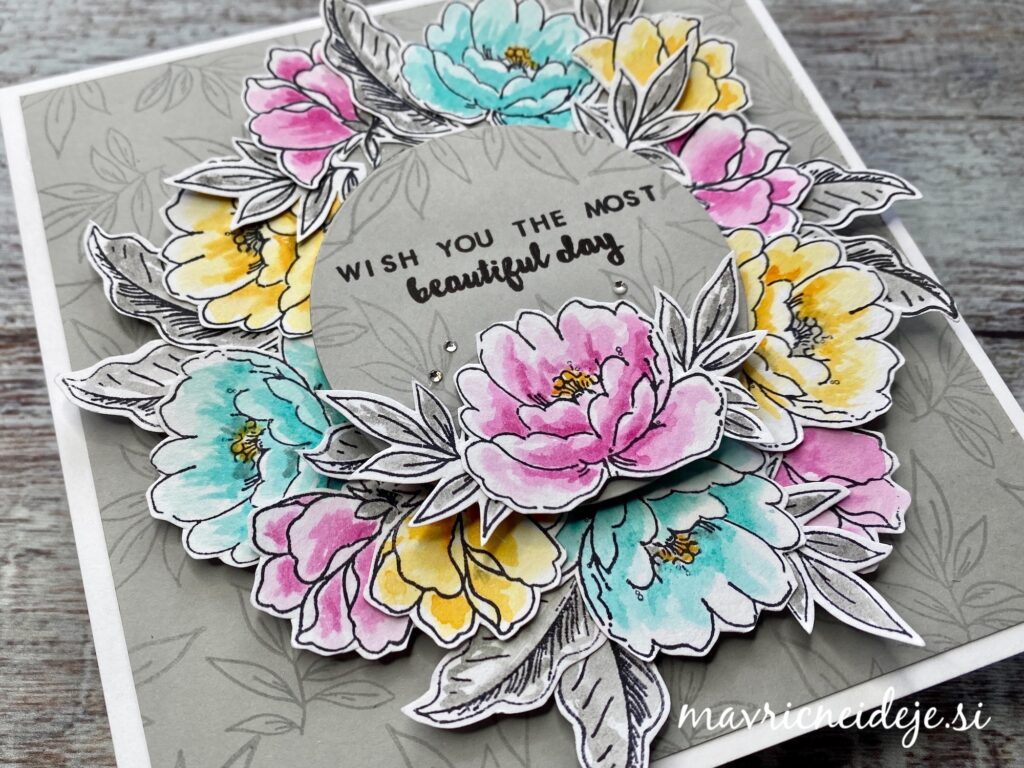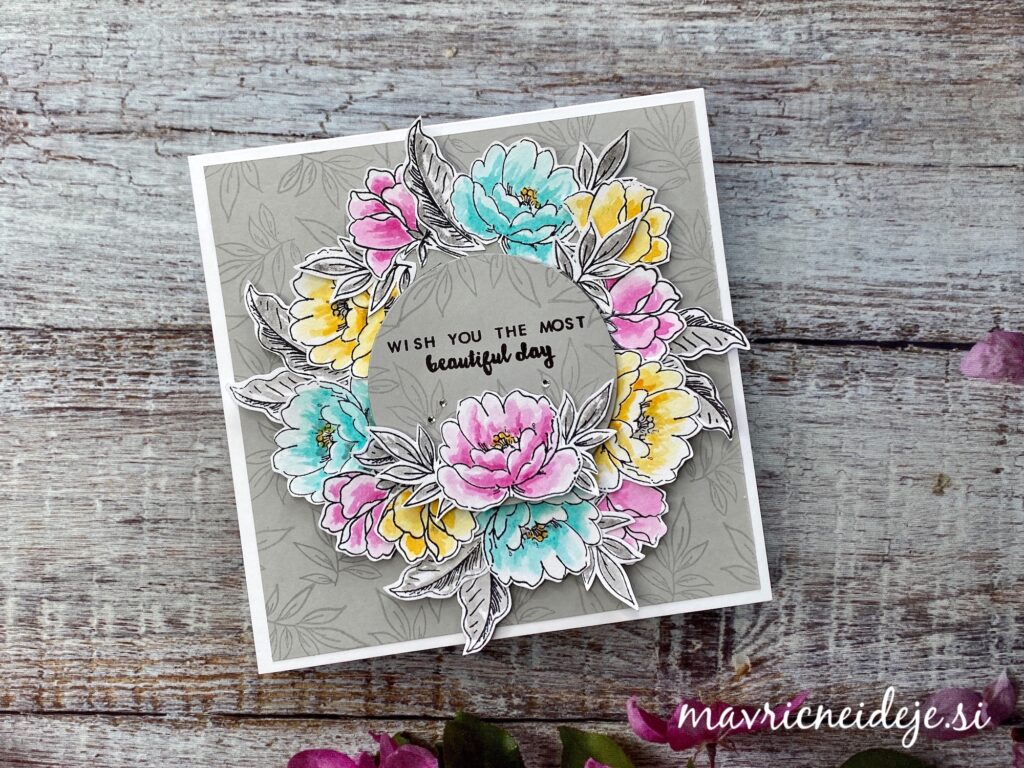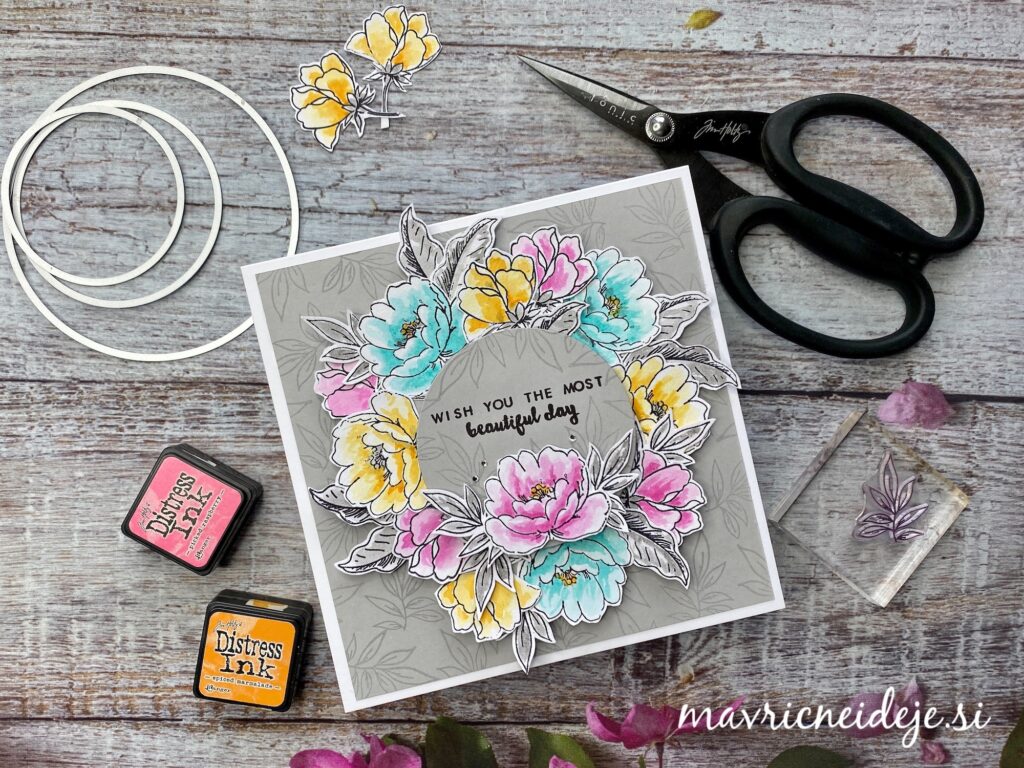 "In the AECP chapter "Cards in Motion" I learned a lot of new tricks on how to make interactive cards. Ashley Tucker explains so pleasantly and shows that it's really fun to listen and watch."
Izdelala sem tudi Reveal Window Card.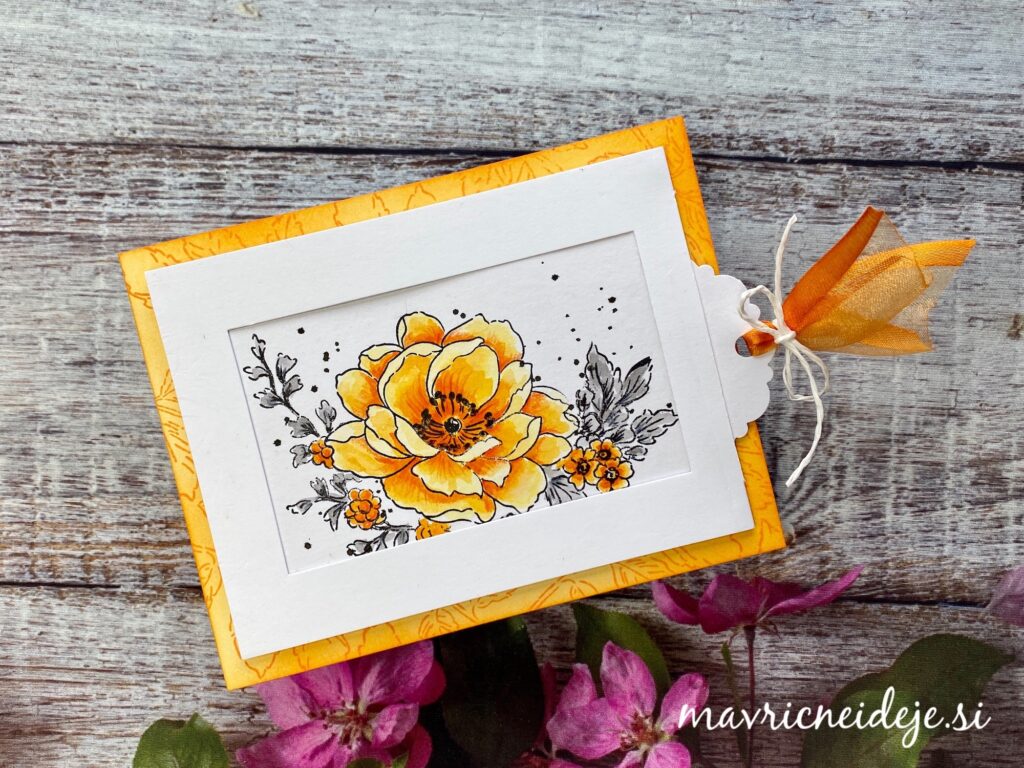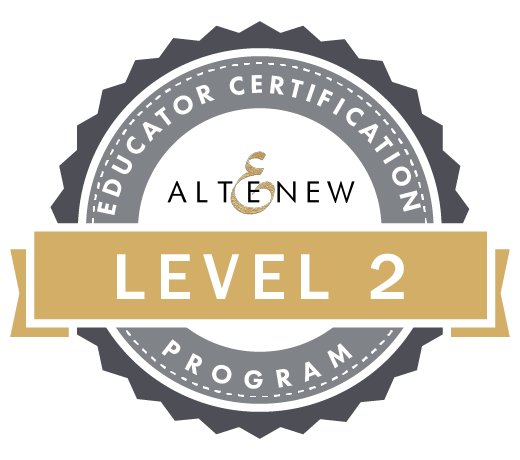 Ves material nadete v

Hvala za ogled in komentarje.