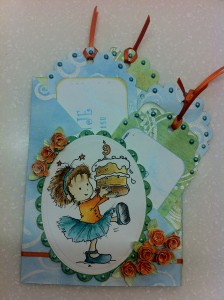 Voščilnica je lahko tudi darilo. Za ta namen sem izdelala voščilnico z žepki in vanje vstavila lističe z napisom: "Plavanje v Atlantisu". Voščilnica je namenjena deklici, ki gre v Atlantis najraje z očkom.
Za izdelavo papirnatih rožic sem z Distress ink blazinico pobarvala bel papir. Za sijaj sem s čopičem nanesla mešanico Perfect pearls prahu in vode v naključnem vzorcu.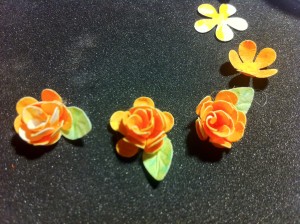 Na penasti podlagi sem z orodjem za embosiranje oblikovala 3d cvetke in jih sestavila s tekočim lepilom.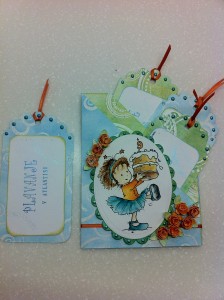 Deklico s torto sem narisala po vzoru Lily of the valley štampiljke in jo pobarvla z Derwent inktense barvicami.