Med brskanjem po spletu sem našla zelo navdihujoč izrek: "Keep calm and train a dragon."
Na prvi pogled sila enostaven izrek, ki  poznavalcem vzbudi misel na krasen risani film Kako izuriti svojega zmaja. Meni se je ideja, kako bom upodobila to misel, pojavila še preden sem spila jutranjo kavico. Med ustvarjanjem sem ugotovila, da sem svojega "zmaja" začela uriti tisti trenutek, ko sem se prijavila na razpis za ustvarjani tim pri Darilnica Klavdija. Takrat sem pravzaprav začutila, da bi mi dobro izurjen "zmajček" koristil, Klavdija pa je to vedela in me…IZBRALA V  SVOJO EKIPO!!
Zahvaljujoč Klavdiji sem se znaša v družbi imenitnih dam: Vanči, Sandra, Goga.
Klavdija, hvala za poslan material, ki ga bom z velikim veseljem uporabila in predstavila na svojih izdelkih. Klavdija bo imela moje izdelke v bogato založeni trgovinici Darilnica Klavdija na izložbeni polički.
Združila sem fantastične Distress Oxide inke, Perfect Pearl prah, prozoren embosing prah in čudovite štampiljke Lavinia stamps. Za "out the box" trenutek sem si privoščila rokopis. Ni kaj, ko začneš uriti zmaja, se moraš lotiti pogumno in tako je nastal še video, v katerem je predstavljen postopek izdelave.
Osnoven tag je Mixed media papir, ki sem ga prilepila na črn karton.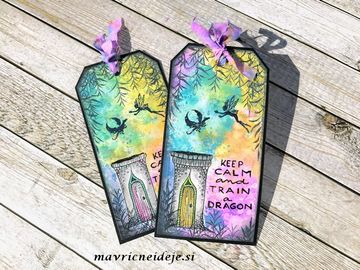 Uporabljeni material najdete v trgovinici Darilnica Klavdija:


Distress Oxide inks
Perfect Pens Ranger
Perfect Pearls prah 
Lavinia stamps
WOW embossing prah
Mixed media papir